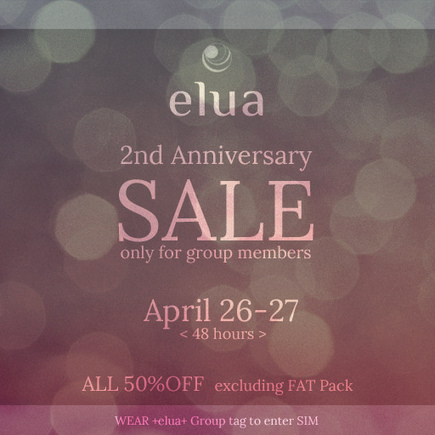 48hours SALE @ +elua+
Big thanks sale to all elua fans for celebrating with elua's 2nd anniversary!
I am so happy to announce you that elua will be a 2 yrs old bland in world this coming 26th of April, 2016. I can not be here without your big support. Thank you so much to who encourage, send hearty cheers to me.
With all my gratitude, elua is going to offer our items at a reduced price, 50% off only at main store from 26th to 27th in April 2016(SLT).
For entering main store, you need to wear +elua+ group tag. It's limited offer!

Don't forget wearing tag before TP to a main store. In this moment, only group members can access to our main store.

[elua Group URL]
secondlife:///app/group/3cbcbf3c-b530-055f-a1b6-6efe1e2c479f/about
(Type this code to your open chat then you can access to our store group!)

Excluding all fatpacks from this 48 hours sale!

maps.secondlife.com/secondlife/Miel%20Island/205/115/23

[Attention]
– Main store will be closed for a few hours before and after the sale.
– During the sale, Store credit payment can not be used.
Thank you for your understanding.
Sourced through Scoop.it from: www.flickr.com
See on Scoop.it – 亗 Second Life Freebies Addiction & More 亗